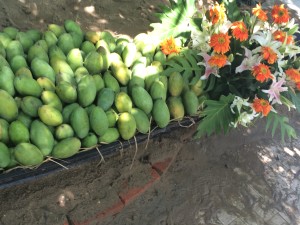 The May mango rains have delivered and the markets are filled with the sweet perfume of the Sein Ta Lone "One Diamond" mango.  Though there are hundreds of varieties of 'Mangifera Indica', the Myanmar mangoes have a genetic distinctiveness unique amongst the world's cultivars.   There are over 300 varieties of the fruit, and the Sein Ta Lone along with the Yin Kwe (Broken Heart) Shwe Hintha (golden brahmin duck) are unique to Myanmar and of prime export quality.
Mangoes are grown in the central Mandalay Region, Ayeyarwaddy and the Southern regions as well as Shan State in the east over a size of some 80,000 hectares (producing about 500,000 tons each season).   The mango export season is from late April to mid-July, with most of the fruit shipped to China from Shan State border towns such as Muse.
We had the pleasure of attending the 2015 Mango Festival in Yangon (organized by the Myanmar Fruit, Flower & Vegetable Producer and Exporter Association (MFVP)) and sampling some of Myanmar's finest.  The MFVP has organized a 'Group of 28' bodies committed to bettering the mango supply chain.   They work in collaboration with international bodies such as the FAO, GIZ, and the USAID to help better yields and quality control.  Packaging and international distribution requires continued efforts to realize the industry's full potential.
Enjoy the festival pictures and this month's recipe from Yangon's resident foodie Phyo Arbidans for mango salad.  Happy mango feasting!
Myanmar Mango Cluster Groups:
Yangon and Bago Division
U Soe Than Min Din, "Oway Orchard", Tharyargone Village
Yangon Bago Highway
Tel:  +9595163228
soethanmindin@gmail.com
Mandalay Division
Saw Than Than Swe, "Thazin New Orchard", Palate Township
Mandalay Division
Tel:  +9592003283
tznmango@gmail.com
Southern Shan State Division
U Soe Thein, "Mya Yamon Orchard", Taunggyi Township
Shan State
Tel:  +9595212858
petersoethein@hotmail.com